Now here's another trend in Facebook. After the USTET-UPCAT issue, there is this girl who hates UST, and I don't know the real reason why. She posted these kind of things in her Tumblr. Most of her posts shot the quality of the students studying in UST, and their spiritual nourishment. I even laughed about her mentioning of Chief Justice Renato Corona being a Suma Cum Laude from UST. Well, those are her opinion, it's hell I care about her judgemental thoughts.
Below are the posts of this Beni Medici (Yvonne De Medici), plus her picture(in case you want to have an idea how she looks like):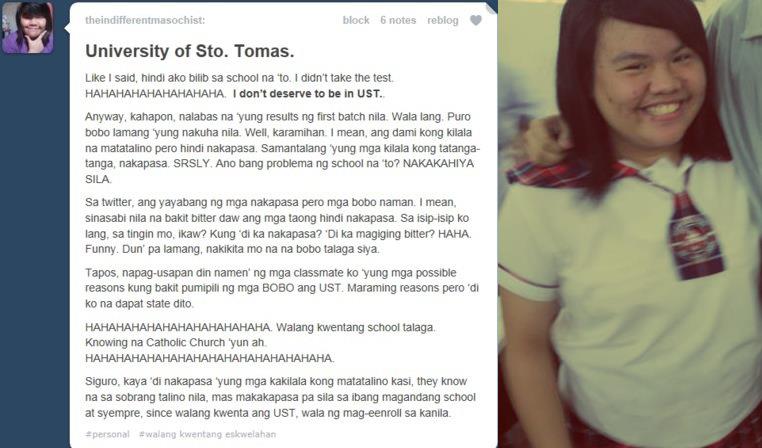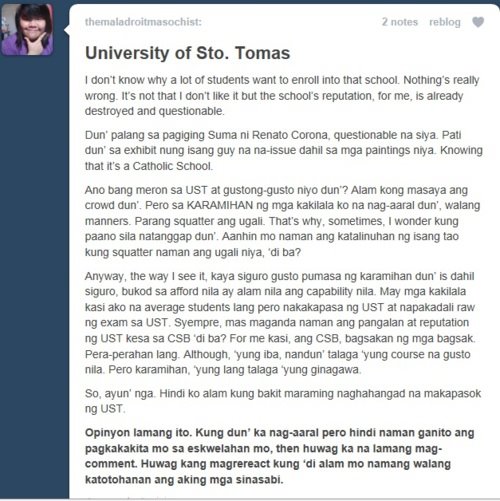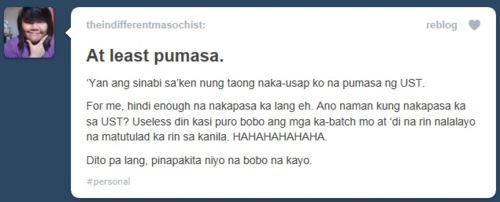 Now, here's the news! She just gained popularity in Facebook! It's like she also became a trend in Tumblr too. Many hated her blog posts, well, it's not a good opinion. She could be sued for that, doesn't she know that?
As many haters grew around her, I think she deleted some posts, and tighten her privacy settings in Facebook. In case you want to meet her, you can do so. Here is Beni Medici's Facebook.
Here's one reaction from a student of UST. Well, Medici was claiming to be just 12-years old. I doubt that. As you can see, she's like one of the bitter failures of the entrance exam. It's the closest deduction you can think of, that she failed the test, and then got bitter over it, then blew the whistle with bad breath. She said that the exam was easy. How come she know that? It only means she took the exam. I agree about the test being SUPER EASY. I took it last 2007, and got about 90-95%, and I can choose all the courses offered by the University. With that level of difficulty, I just can't believe anyone would have the right to fail. This only proves that this HATER really has the smallest IQ of them all.

And now, there's no stopping to all the students trolling against her. It keeps on increasing, and I believe there will be a fanpage for this girl, just like what happened to Christopher Lao who also gained popularity and haters.
Now let's just pray for Beni Medici, that she may have peace in mind, because I know that it's Her Against the World. Good Luck Miss Beni!
P.S – I'm not mad at this hater. Actually, my dream school is UP, but I'm also a proud Thomasian. By the way, Beni… UST is not a Church, it's a University…can't you realize what U stands for in UST? Haha!