David Archuleta said it! He told all the fans that he's going to the Philippines for the second time, and now he has landed. The American Idol David Archuleta arrived at the Ninoy Aquino International Airport around 6 AM on January 13, 2012. It's a surprise to know David Archuleta coming here, but not for a concert.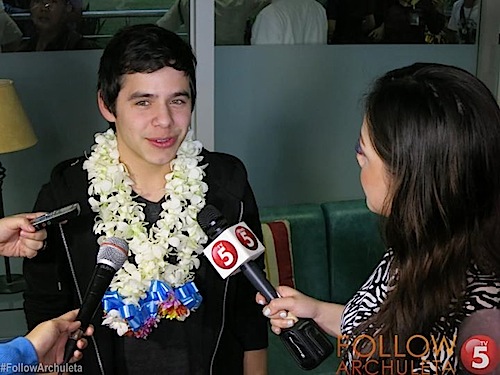 It was posted days ago that David Archuleta will be having a TV series here in the Philippines through TV5. It's a great idea to have a popular foreign idol to be with the local actors and actresses in a TV series. Archuleta will be working with Jasmine Curtis-Smith and Eula Caballero for the primetime series on TV5. Though I don't have the slightest idea of the title and plot of the series, I'm anticipating a great show which viewers will swarm to on that time slot.
Here's two videos about David Archuleta joining the TV5, becoming a Kapatid member. Since TV5 is just near our place, I do expect that I can at least have a picture with that idol. Well, if luck strikes like a jackpot I guess. 🙂
This is the video blog post of David Archuleta. He announced about coming here in Philippines, and the series he'll be making with the other Kapatid stars.

So how do you feel seeing a popular idol we've just seen in American Idol, and now working with our local actors for a TV series created especially for us Filipinos?