You may be wondering why many tweets and posts were about Zodiac Signs, just this January 2011. It has become an issue that there's a new Zodiac Sign came in this year 2011. Ophiuchus wasn't much old for you, eh? Well, that's the new Zodiac Sign for 2011, Ophiuchus.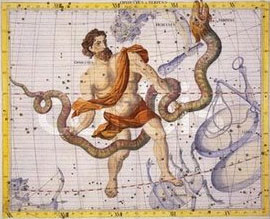 With that adding to the collection, it has greatly affected the other Zodiac Signs and even the Horoscope. It will occupy a certain date range, which will change others Zodiac Signs. As for me, I was a Leo before. When I checked out the new Zodiac Signs, I just became a Cancer. What the hell. I really liked Leo. My cool element and planet would changed too. That's pathetic. I wonder if my luck in the horoscopes would change too?
Here's the new Zodiac Signs 2011:
Capricorn – Jan 21 to Feb 16
Aquarius – Feb 17 to Mar 11
Pisces – Mar 12 to Apr 18
Aries – Apr 19 to May 13
Taurus – May 14 to Jun 21
Gemini – Jun 22 to Jul 20
Cancer – Jul 21 to Aug 10
Leo – Aug 11 to Sep 16
Virgo – Sep 17 to Oct 30
Libra – Oct 31 to Nov 23
Scorpio – Nov 24 to Nov 29
Ophiuchus – Nov 30 to Dec 17
Sagittarius – Dec 18 to Jan 20
What's your reaction towards this one?