It's now the time that I, excloudstrife6, give my prediction for this NBA Playoffs 2012. I'm not really the expert one, and in fact I'm not lucky when it comes to NBA Odds bets, but when I do get a hunch, it has like 90% accuracy. That's what I feel, I don't say that it really have that luck.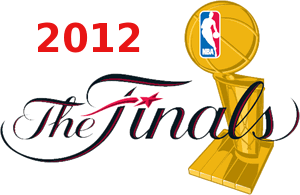 Now, based on my hunch, I have the feeling for this scenario:
We all know that these 16 teams have proved to be good in NBA: Utah Jazz, Los Angeles Clippers, Los Angeles Lakers, San Antonio Spurs, Boston Celtics, Atlanta Hawks, Denver Nuggets, Philadelphia 76ers, Indiana Pacers, Orlando Magics, Dallas Mavericks, New York Knicks, Chicago Bulls, Memphis Grizzlies, Miami Heat, and Oklahoma City Thunders.
But, I only believe that these 6 teams can only have the potential to go to the final four: Indiana Pacers, Oklahoma City Thunders, San Antonio Spurs, Miami Heat, Los Angeles Lakers and Chicago Bulls.
And I have foreseen this, that Miami Heat and Oklahoma City Thunders will be meeting on the NBA Finals 2012. If not the two teams, well, second option would be the San Antonio Spurs and the Indiana Pacers. It would be lucky if the Los Angeles Lakers can dominate the West since they are up against two strong teams, the Thunders and Spurs. I have no hopes on Chicago Bulls since they don't have Derrick Rose anymore.
Those are my predictions for this NBA Playoffs 2012 and NBA Finals 2012. So what's yours?