A short NBA Finals 2012 Prediction from StrifeofCloud.com! I've been enjoying the semi-finals playoffs 2012 every morning, and then I came up with a prediction as to which two teams will face for the NBA Finals 2012.
It is no other than Miami Heat and Oklahoma City Thunder. You could say I bet on the Thunder, that's why I included it in my prediction. But I'll be give my explanation as to why it is the Miami Heat and the Oklahoma City Thunder.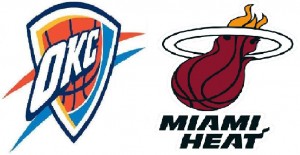 We know that the BIG Three of the San Antonio Spurs are good, but they won from the Thunder with just small gaps in the scores. Those are even in their homecourt, but the Thunder made it with as much as 20 points. They should not provoke Westbrook and Durant, or they'll go home to San Antonio weeping from defeat. Even James Harden makes something in this series. It's the Oklahoma City Thunder for me.
Well, I don't think you need to question the King in NBA. King James won't let the team lose in this series. So far, they lead by 2-1, and I'm not seeing Wade heated up, so what if he does more? Even if we just make it a "win every home", the Heat will steal grab the series because Game 7 will be their in their home.
So, HEAT VS THUNDER for me for this NBA Finals 2012. What's yours?