Yes, this is it! The one of the strongest boxer in history will be in the boxing ring right now, this may be one of his last battles before he retires. As for tonight's event, Manny Pacquiao will be facing Antonio Margarito. They say the opponent can be a match for him, but I doubt it 100%.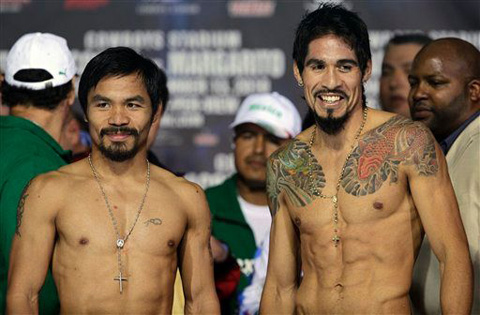 Not just because I'm a fellow Filipino, Margarito cheated way before. That's a proof of incompetency. He even got beat up by Shane Mosley, which Floyd Mayweather Jr. defeated last May 2010. Floyd Mayweather Jr. is quite scared to battle with Manny 'Pacman' Pacquiao, we don't know why. Although, I'm still hoping for them to appear in Las Vegas for Pacquiao's last bout in the boxing career. And of course, the result would be what it should be. You know that alright. 😉
An intense feeling can be felt even though we know Pacquiao has the upperhand here. We have this so-called 'Luck' in every aspect of life. There's always a chance this miracle would apply here. Enough with that. Let's hope for a great fight, and also clean. 😉
GO MANNY PACQUIAO! GO FOR YOUR 8TH BELT, you'll be the first one to have 8 belts simultaneously.