A very important thing to share to you folks this evening. Have you ever thought of something in the past, in which you want it to happen again or at least regain what you've lost.
As of the moment, I'm reminiscing my past, the time when i was still in elementary. This is very important to me because this is becoming my inspiration the more I think of it.
The present me has been meeting demons in the pits of failure. I know the reason would be the very lack of efforts, but some factors really affect yourself.
Ever since 2011 came to me, I encountered too many unusual things which changed me. This reason made me think of the past, the joyful and stress-free life. If only I could bring back time, the happy times.
I wondered. 'What could be those things which are affecting me in year 2010 and below?' As I reflect, those things come to mind, and I promise to myself to take action about it.
Sharing things like problems really do help. Being able to share this one is made possible by broadband and connection. Having a great connection eases us from surfing and sharing thoughts, stories and queries,
I have known a good broadband connection, most are being used by individual friends. You can tell the quality through the number of users.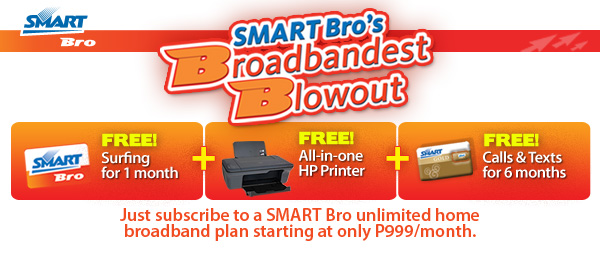 Smart Bro is one of a heck example of great broadband. During this time, the promo they are giving are still intact. If you avail the broadband kit, you'll receive many freebies like all-in-one HP printer, free 3 months call and text with SMART Gold Lite Plan 300 for 6 months subscription, and 1 month subscription free of broadband.
Isn't it a great deal for a broadband? Don't miss this chance to surf the net unlimited and enjoy great speed. Have a look of this video commercial of Smart Bro. This may even give you second thoughts or even millions about subscribing to a broadband now.
SMART BRO BROADBANDEST BLOWOUT