I just bought a new mountain bike from a known bike shop around our district. Actually, I was just looking, but then I saw many mountain bikes being assembled. The woman told me the specifications of the mountain bike I just saw.
The mountain bike has already Aluminum Alloy in the handles, pedals and other parts of the bike. The main body is made of metal though but of high quality, and even painted good enough. The tires are good too, even the colors and the design. There's no question for the plates and sprocket as they really are looking good. The bike also is 21 Speed. 3 Gears for the driver and 7 gears for the driven.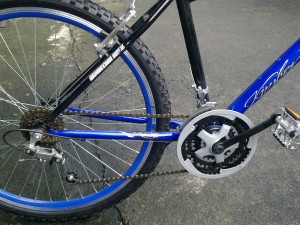 Isn't that cool of a bargain? For ONLY P2500, I can circle around the village with a fantastic mountain bike. I really do believe this mountain bike can last 3 years too. P2500 is not wasted at all.
If you want this mountain bike too, you can ask me. I can help out, especially when you're in Novaliches area, or Mindanao Avenue, or at least Quezon City. Well, just a P100 commission is enough I guess? Hehehe. Contact me thru my contact form. I'll be willing to help. 🙂