First of all, I do not own this story about Mr Roldan Jimenez Pineda. I just saw it from Facebook, and it seems Joe Zeyer who took the picture also wrote the story. The story is REAL by the way. He's narrating what he had experience with a VERY GOOD MAN.
One comment before I put the story…If you never shed a single tear, you don't have a heart. That's it. 🙂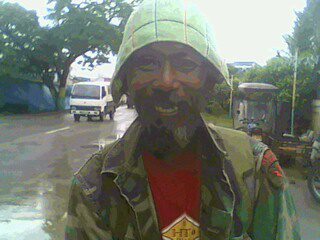 I am just sharing this picture of a very humble guy named ROLDAN JIMENEZ PINEDA, 63 yrs old, from Isabela. You don't need to read everything if you are lazy, but all I need to ask you is pray for his safety. I am not a writer, but I will try to tell you the story.

Here's what happened:

Just this windy and rainy morning, I was in my friend's canteen. It is just beside the subdivision where I live. I was chatting with my friend's dad about some business. This humble guy came in front caught my attention. He was not asking for money nor anything. Instead, he ordered P5 worth of rice. He cannot even look directly because he feels so shy.He said, "Maaari po bang bumili ng limang pisong kanin?" His hair is so wet that's why he covered it with a small towel. His clothes are kinda wet too. When I heard his shaking voice, I can feel that he is tired, cold, and starving. He has a green backpack and a sack with old boxes and plastic bottles. I suddenly felt sorry about him, that my heart was telling me that I need to do something. Instead of me just sitting on my chair, I decided to stand up and tried talking to him. I asked him if that small amount of rice would satisfy him. He said that he was planning to eat some of it and save some, then continue walking til he reach Nueva Ecija which is more than a hundred miles I think. His destination would be Isabela, where he lives. He asked if he can fill his bottle with some water. I said, sure. While I was putting water in his used old bottle, I told him to order some more food so he can eat. Told him not to worry because I will pay it for him. Mang Roldan never asks for money. He earns his own by selling bottles at the junk shops. His eyes turned red, while he was trying to hold his tears. He said that he can't thank me enough.

MANG ROLDAN: Nahihiya po ako kasi ganito lang suot ko.
ME: Akong bahala po sainyo. Ano pong gusto nyong kainin?
MANG ROLDAN: Wala po ako sa posisyon para pumili. Kahit gulay lang po o yung pinakamura.
ME: Kailangan nyo pong kumain. Order po kayo kahit ano, yung siguradong mabubusog kayo.

I took his hand so he can walk beside the stand where he can choose. While they were giving him his food, I told him that I need to go home and get some money so I can pay his bill. At home, I grabbed my old camouflage jacket which I gave him.
We talked about his tragic story and his plans. Years ago, he needed to sell their house and lot because his wife had a bone disease. Sadly, everything was spent but his wife didn't make it. He had 3 children. The first born were twins, died because of bronchopneumonia. While the youngest was ran over by a bus. He tried putting a small business by selling fishballs in Manila, but in the time of Bayani Fernando, MMDA took his carts and destroyed them. Mang Roldan and his family are church people. You can tell with the way he speaks. He visited Pampanga to see his sister/brother. Too bad he wasn't able to meet the only family that he knows. Hearing his story broke my heart.

I also noticed that he cannot walk straight because of his swollen left leg. "Lumipad yung bato na nadaanan nung gulong ng jeep, tumama sa paa ko" he said. He thanked me for the food and jacket. I handed him some money so he can ride the bus and buy food. He said that he cannot give me anything in return. Seeing him wipe his tears made me feel super sad that it made me cry too. I was speechless. I shaked his hand and told him that his story was enough for me to learn things, and I was happy that I was able to help him. I gave him my umbrella so he will not get wet on his journey. He didn't want to take it, but I insisted. (I hope my mom won't notice that her umbrella is missing)

While Mang Roldan was crossing the street I was looking at him. I noticed that he was walking towards a corner. He saw a beggar on the side. You know what he did? He did not share the food that he had, HE GAVE EVERYTHING! Rice, bread, and water. That's it! That was priceless! I knew that this man is special. He touched my heart. I realized that what I gave him is not even enough. Salt water fell from my eyes. (even while I'm typing now). I decided to go to him when I noticed that busses and jeepneys were not stopping because of discrimination. So we waited for a bus and I took his picture. He smiled and said, "half-body lang ha, nakakahiya may dala akong sako. Hehehe!" What a guy! He can still smile after all the things that he went through. Finally, a bus stopped. I told him to act as if he is my uncle. Before he stepped on the bus, he thanked me again. I waved goodbye and said "Ingat Tito, text mo ko kaagad." I said it loud so the conductor will hear me.
I don't know, but he was like an angel that was sent to teach me and realize lots of things. That is why I decided to put it on FB, hoping that you will learn from it. If only I am wealthy enough, I would love to do more things just to help more needy, homeless, poor, deserving people. I have been planning to create my own Foundation since I was young. Well, God has plans for all of us. Maybe someday I will. I also hope I could meet Mang Roldan again, and give him a fishball business or have him help me helping others.

I remember a book written by Father Jerry Orbos, that we should not be just good Samaritans but we need to be Better Samaritans.
Touching, right? Share, Like and Tweet if you were touched. May we meet more people like Mr Pineda. This is the type of people worth helping for.