I was first astounded what I read on my Twitter as I've seen Justin Bieber's retweet. Bieber retweeted one of Floyd Mayweather Jr tweets. According to the tweet by Mayweather, he is calling out Manny Pacquiao for the fight on May 5. The exact tweet is "Manny Pacquiao I'm calling you out let's fight May 5th and give the world what they want to see." posted January 10 at around 7:30 PM(Singapore Time). Here is the screenshot of Mayweather's tweet which is really meant for Pacquiao.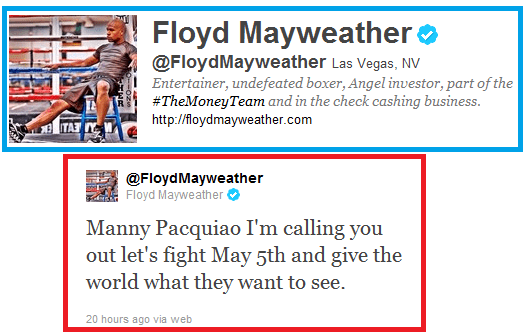 We all know about the delay of Mayweather's jail sentence, but the Pacquiao VS Mayweather should push through, right? I actually want what Mayweather tweeted, but it's just that Mayweather was saying that Pacquiao was the one declining for the match. For your information, Mayweather is the chicken that doesn't want to fight Pacquiao in the first place. Maybe he just gained confidence for what happened to the Pacquiao VS Marquez III, but I'm very sure Pacquiao will beat the crap out of Mayweather.
Let's hope the battle on May 5th will be Pacquiao VS Mayweather, the dream battle the whole world want to see.
Any reaction to Mayweather's tweet for Pacquiao's attention?