The boxer the Filipinos have been waiting for to fight Manny Pacquiao, Floyd Mayweather Jr., will have a match with Victor Ortiz on September 17 in Las Vegas.
We've seen Mayweather VS Ortiz in the first episode of Mayweather Ortiz 24-7. For the comeback of great fighter, his lines which really caught my attention is below:
"I don't care about that," the 24 year old former Kansan said. "I don't pay attention to that. I am not one of those made champions. I didn't get here by fighting tomato cans.

"I'm not one of those guys who were fed with a spoon like that. I have a lot of slaps in my face (from critics). This is a great chance for me.

"I plan on being a world champion for 15 years. I didn't work so hard for this opportunity to let it a slip away," Ortiz said.

"I am definitely going to beat Mayweather."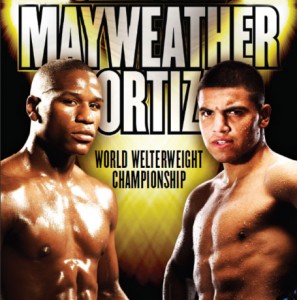 Even more, Ortiz is hoping on facing Manny Pacquiao next year after he beating(if) Floyd Mayweather Jr. Would you think he'll be the next opponent for the People's Champ Manny Pacquiao?
As a Filipino, I too want to witness the Pacquiao VS Mayweather. Well, let's see what this Mayweather can do, or rather what round would he fall under Pacquiao's punches. I'm 100% sure Pacman will eat Mayweather alive, the main reason he's scared of fighting Manny.
I do hope that if ever Mayweather wins on September 17, the bout for Pacquiao and him will pursue. Let's hope for that guys!