I gathered information on how to donate and help in relief operations for the flood victims August 7, 2012 in the Philippines. Hashtags: #ReliefPH #RescuePH #PrayforthePhilippines. We as Filipinos are hospitable, and I guess we won't ignore this terrible event that happened this August 6 and August 7.
In case you want to help and donate, here are the ways I compiled. Small things you can give are big things to those who need them.
DONATIONS:
Red Cross:
Via SMS and GCash:
SMS
Text RED(space)AMOUNT to 2899 (Globe) or 4143 (Smart)
G-Cash
Text DONATE(space)AMOUNT(space)4-digit M-PINREDCROSS to 2882
You can donate the following denominations:
Globe: 5, 25, 100, 300, 500 or 1000
Smart: 10, 25, 50, 100, 300, 500 or 1000
Bank Deposits:
Bank accounts for Donations
Banco De Oro
Peso: 00-453-0018647
Dollar: 10-453-0039482
Metrobank
Peso: 151-3-041631228
Dollar: 151-2-15100218-2
Philippine National Bank
Peso: 3752 8350 0034
Dollar: 3752 8350 0042
Unionbank of the Philippines
Peso: 1015 4000 0201
Dollar: 1315 4000 0090
All Check/Cash for the account of Philippine Red Cross (Swift Codes)
Banco De Oro
BNORPHMM
Bank of the Philippine Islands
BOPIPHMM
Metrobank
MBTCPHMM
Philippine National Bank
-PNBMPHMM
Unionbank of the Philippines
-UBPHPHMM
For your donations to be properly acknowledged, please fax the bank transaction slip at nos. +63.2.527.0575 or +63.2.404.0979 with your name, address and contact number.
Other Ways to Donate:
Paypal:
Green Peso:

Pay Dollar:

Multiply:
Other Foundations:
LBC Foundation – LBC branches as drop-off centers for Phil. Red Cross. You may take your donations for flood victims to the nearest branch starting tom Aug 8.
McDo Philippines – McDonald's stores open in Metro Manila are now accepting donations in kind (rice, noodles, canned goods, etc.) for flood victims. RT please.
Jolllibee – Jollibee Foods Corporation (JFC) stores nationwide – Jollibee, Chowking, Greenwich, Red Ribbon, Mang Inasal – are accepting cash donations through Jollibee Foundation coinbanks at the counters. Donations received will be used to assist families affected by the torrential rains and flooding
Ayala Malls – Ayala Malls is accepting donations for flood victims. These may be handed over to Concierge booths in all Ayala Malls.
SM Supermalls – @smmegamall event ctr has been converted into a relief drop-off ctr for those who want to help ppl adversely affected by floods #rescuePH
TV5 – When it is safe already,kindly drop off donations at AKFI ofc 730 Quirino Hiway,San Bartolome,Novaliches,QC @interaksyon
GMA7 – For donations, you may call GMA Kapuso Foundation's telethon hotline 981-1950. | via @MarielleVentura
ABS-CBN – SAGIP KAPAMILYA: BDO and PNB (peso & dollar accounts)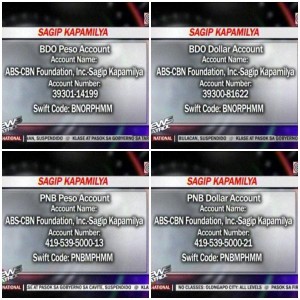 Relief Goods Wanted:
Schools:
UST (University of Santo Tomas) – Drinking water, instant noodles, canned goods, rice, clothes, footwear, pillows, blankets, sleeping mats, toiletries, and medicine. Drop-off points are the CSC office, Tan Yan Kee Student Center Lobby, or the Local Student Council Office. You may contact Agree Gonzales (09178460671).
UP Manila (MU Sigma Phi) – Clothes and undergarments, drinking water, blankets, canned goods, noodles, rice, sleeping mats, toiletries, sanitary napkins, and diapers. Donations may be dropped off at the Mu Sigma Phi Hut, UP College of Medicine, 547 Pedro Gil. St. Malate Manila. Contact Miguel Berba at 0917 823 02 09 for more info.
De La Salle Zobel – Drop-off point at Gate 7. Contact Mr. Jayjay Jacinto at 09178597602 for queries.
La Salle Greenhills – accepting donations for flood victims: Drop donations at La Salle Greenhills, Gate 2, 343 Ortigas Avenue (Contact persons: Marlo Castillo of the Lasallian Mission Office
Ateneo – The Ateneo DReaM team is now accepting donations at the Cervini Lobby. Please donate food (canned goods, those we can cook), water, and blankets. No clothes for now please. Thank you very much!
UA&P – Also accepting relief goods. Both Pearl Drive and Escriva drive entrances are open.
UP Diliman – Now accept donations. They're also on the look-out for volunteers. Contact the USC-UPD or the college councils (09277571005 or 09065701029), according to USC-UPC Chairperson Heart Dino.
More schools offering relief drives. Consult your school for more information. They need manpower, offer help by just going there and help repack and transport goods.
For more information of Donation Drop-Offs, visit Rappler website.
Help in Relief Operations (Volunteers):
GAWAD KALINGA: I texted the mobile numbers given. They reply so fast. They said to just go there and offer help if you want. They are located in HRD Training Ctr, DAR Compound QC, ALONG QUEZON CITY ELLIPTICAL ROAD. I'll be going there on August 9, though they will update first about it. Go now this August 8 and help. They also accept donations there.

DSWD: The Department of Social Welfare and Development (DSWD) also appealed for volunteers to help repack relief goods. Volunteers can proceed to DSWD's National Relief Operations Center. The center's telephone number is (02) 852-8081.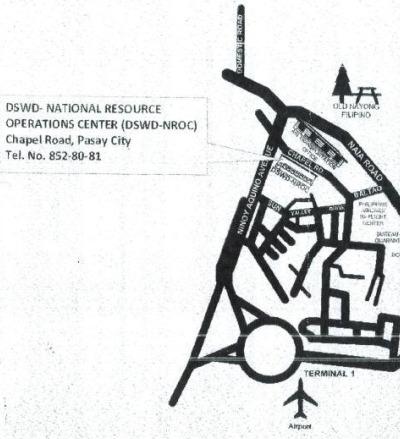 Those living in the vicinity of Sto. Domingo Church in Quezon City are being asked to help provide food and drinks to 400-500 evacuees staying in the Church. Food, water, dry clothes deeded.
Sources: Rappler.com and Redcross.org.ph and Facebook.com