This is a big news to all Friendster user. There was an announcement from the former leading social networking site that it will be shutting down on May 31, 2011. What will become of your profile, pictures, blogs, testimonials, and friends in your Friendster?
Friendster is giving you a chance to save all your your data in your Friendster account. It seems they have made a method for the users to easily backup or export their data.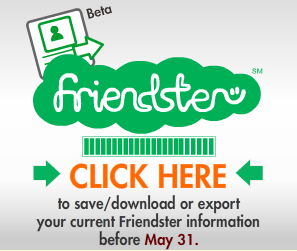 As you login on Friendster, you can see a picture in your homepage or dashboard like this one above. Just click on that, and you will be encountering a page where you're given 3 choices: export your profile, photos and blog. Just read the instructions. They will be generating it, and they will send you an email regarding your request. Just stay back, and wait for it.
It seems that they won't be shutting it down completely. Friendster will just become something better. We don't know if it's still a social networking site like before. Do you think Facebook has done a lot for Friendster's misfortune?