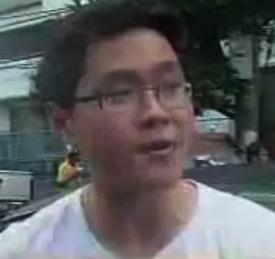 Since it's a rainy season, Metro Manila has been receiving massive rain fall since the storm signals of July and August. Now a law student gained fame for something he did "stupid" or perhaps an 'just an accident'. Introducing Christopher Lao, a UP law student. He was on-fire with his footage by GMA 7. It was seen that his Nissan Sentra floated when he tried to thrust his way in through, despite the high level of flood in front of him. At first, you'll be laughing real hard, seeing his car floated because of the flood, and even thought about 'Why do such a thing?' Well, he has his reasons.
According to Lao, it's not his fault. The MMDA or the government should be blamed. He keeps saying that 'I should have been informed.' Failed to estimate the flood by his eyes, something 'careless' happened.
View the footage of Christopher Lao's floating car, and his interview. You'll laugh at first, that's given.
But thinking about it, does he really deserve to be criticized? Many people who doesn't even know him blab bad things about thing, usually something about 'stupidity'. Can those people carry what a UP Law student should have what it takes? I doubt it, because most of those who commented bad about him were the real stupid or simply trash. Agree?
Below is something a bad fan created. It is something about Hitler's reaction to Christopher Lao's misfortune. Again, it's funny in a way, but realizing it more, it's not good patronizing. I just wanna show you, how those in-secured people act, to the extent that they can create something like this one.
No what do you think about Christopher Lao?