Update (August 8 5:10 PM): UST flood status updates! Thanks to those taking pictures of the school. We're getting updated to the status of UST. Here's another 2 pictures taken 10 minutes before 5 PM at P.Noval gate and aerialview of UST at  5:10 PM.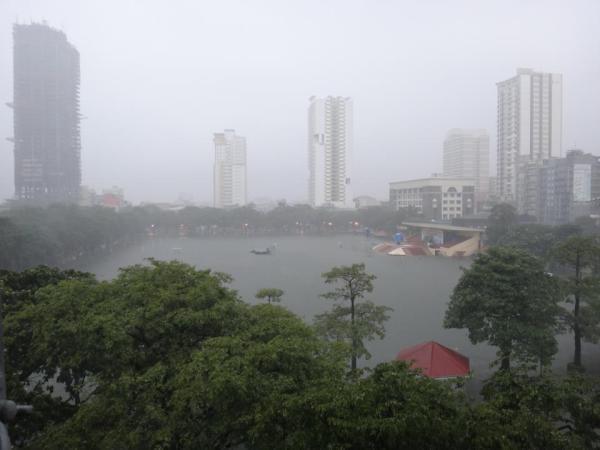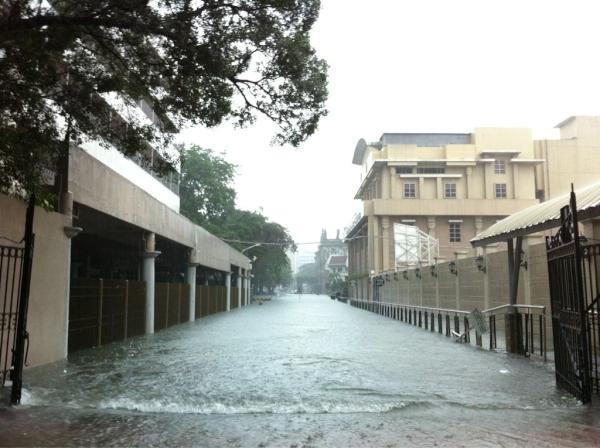 Update (August 8 1:45 PM) : Many wants to know the UST Flood status updates since the August 7, 2012 heavy rains. Well, the UST Main Gate is flooded. Someone took a shot of it from a 21st floor of a building. Credits to Denisse Cabaral for the picture. So, what do you think? Can we have classes soon? Anyway, it was announced by the Secretary General that UST has still NO CLASSES on August 9. Wait for further announcement regarding the next day or about the preliminary exams postponement.
UPDATE (August 7 2 PM): UST Hospital has been flooded too. It reaches the second floor around 2 PM. Let's hope the apparatus, machines, records, medicines and the people there especially the patients are safe. They made safety measures for sure while the water's rising. Thanks to uploaders of these photos of the inside of UST Hospital.
Now do you want to see what the heavy rains (Hanging Habagat) did to UST (University of Santo Tomas)? How can we go to school now that it has come to this? See for yourself with these pictures.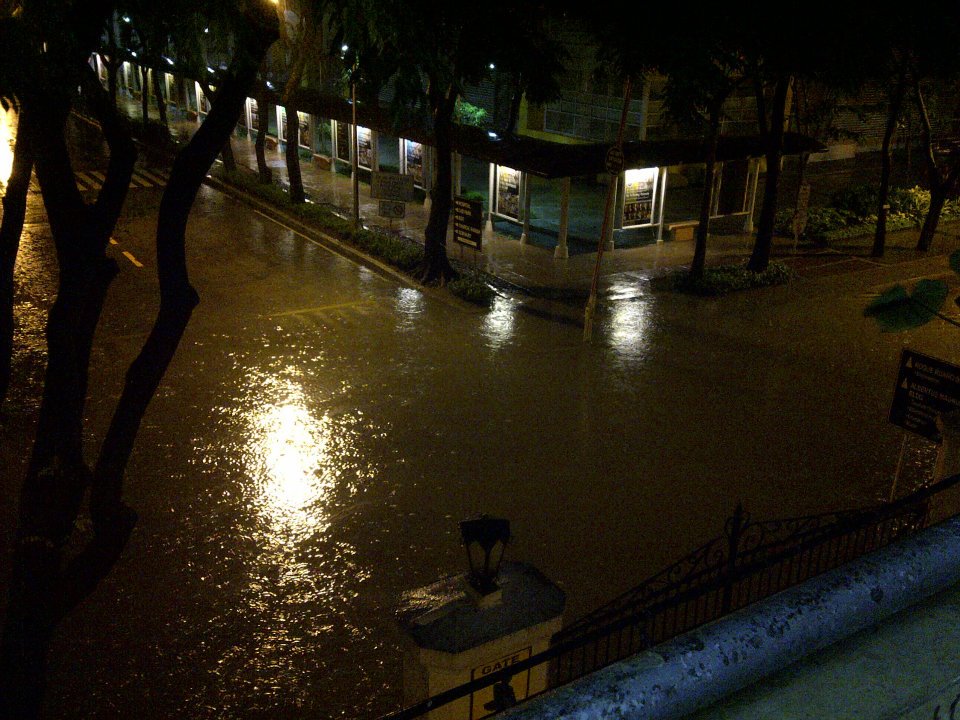 Here comes the conscience part. I believe there's a very small percent factor of KARMA here(If you believe in the LAW of ATTRACTION). Those students who wish for suspensions of classes due to heavy rains. Now we students are the one who will suffer most afterwards. The days we've missed will be replaced by days we should be relaxing by then. Our sembreak could be shortened because of this. So, I just realized it's not good to hope for thunderstorms and heavy rains just to have a suspension of classes. It's not just us who suffer, but the homeless people. They just want to live peacefully, but here we are praying/hoping for the rain to fall heavy just so we can slack off. Right?
Now people who's cruel to the environment contributed to this one. If you think about it, year after year, the storms and heavy rains we experience gets worse. Today's southwest monsoon is just equivalent to the Ondoy which was merely a storm already. See?
I hope we learn now from this event. Yes, it's a NATURAL DISASTER. No one's at fault why it happened, but I believe we people contributed to how heavy it has gotten. GLOBAL WARMING and such. We should also care for our environment.
As a student, don't litter. FLOOD has many factors to consider, and one could be LITTERS. This COULD be the result of our small littering that drainage got blocked. If you can just see the inside of the drainage, you'll realize right away. Don't overlook small things too, especially those students who smoke, then just throw their cigarette butts after smoking. That small thing can grow to this big. Remember that.