This game Temple Run gained fame in an instant for it's capability to lose your boredom. I downloaded the Temple Run when it was still starting. At first, I found it just a typical kind of game in iPod Touch, but as I play more I realized that it really is fun.
You may be wondering why many are bragging about their score. Well, the game is endless, and it's just based on how far you have reached in the game. Now there are tips or even cheat to reach an incredible high score.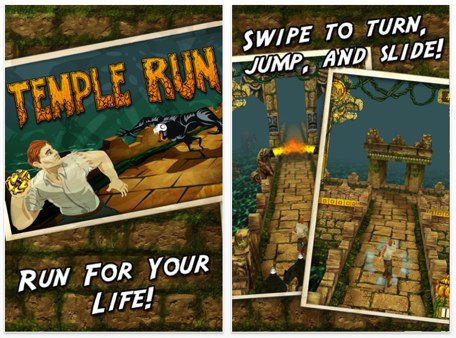 Temple Run Guide and Tips:
In order to get your score high in fast-paced, your multiplier should be on MAX. For that to happen, you must meet your objectives. Accomplish all the tasks for the multiplier to be on MAX level. You first start with the powerups, the simple tasks, buy all the characters and wallpapers, etc.,
Another tip is to use the resurrection wings. That is the key to reach 10 million score and above. But if you are a total pro, maybe there's no need for the resurrection wings.
Always sit while playing. You don't have full control if you're lying on your bed. Plus, focus and be alert. That's the tru secret to it. If possible, have a fast hands. 🙂
Temple Run Cheats:
This cheat is something that makes the road a straight one without obstacles, but it also removes the coins leaving only the powerups(so max out the coins powerups). During a corner, swipe the screen back and forth in a fast manner. With proper timing, it will straighten the road, but the accumulation of score is slower than usual, so just leave your iPod or iPad for about an hour or two.
That's all for the Temple Run Cheats, Tips, and Guide.