Is it not good in the feeling to know that you followed someone, then he/she followed you back, and then after some time clicked "Unfollow" on you. Well, it's not easy to know if someone did that to you. But rest easy as I've known a procedure to know if someone you follow doesn't follow you back.
Step 1:
Visit the profile of the user you want to check out if he/she follows you.
Step 2:
If you can see a mail image near the "Following" word, then that means he/she is following you back. Below is the sample image of the difference of someone that follows you back and some that doesn't.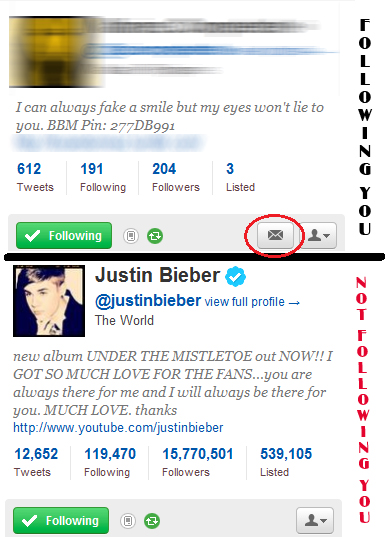 Step 3:
It's up to you if you "Unfollow" that person. Haha!
See? That's how it is. If you use the app Twitter for iPhone, then if you visit the profile of the user, it will be indicated if he/she follows you back or not.
If you have time, why not follow me? Follow me on Twitter @excloudstrife or just click the "Follow Me" hanging on the right side.