There is yet a new version of DotA after few days of the release of DotA 6.73 map. DotA 6.73b just came out like yesterday, and there are many fixes and changes that really matter in the game. I encourage you to download DotA 6.73b because there are many bugs in the DotA 6.73 version which irritates me.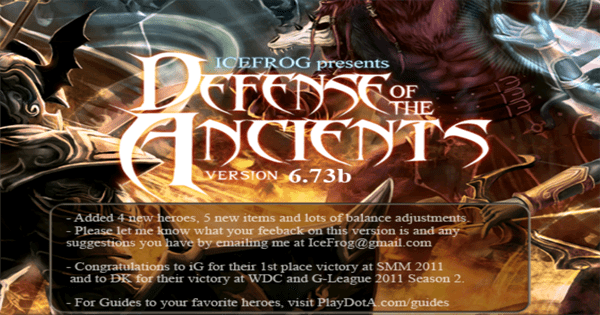 Download DotA 6.73b now! You can see the changelog below.
* Couriers are now invulnerable near their fountain
* Fixed Santa Hats on Illusions
* Fixed Tiny's Tree visuals when he gets cycloned
* Fixed first hit with Sleight of Fist being unable to bash
* Fixed a big exploit with Fire Remnants that could cause it to do dramatically more damage than intended
* Removed Pudge Santa
* Fixed Meepo clones not respawning with full mana
* Fixed Stone Giant's Aghanim bonus stacking with multiple instances
* Fixed Whirling Death damage tooltip
* Fixed Zeal HP regeneration
* Fixed Meepo's interaction with Tranquility Boots
* Fixed attack range on Legion Commander and Goblin Shredder being slightly off
* Fixed Goblin Shredder's agility and intelligence growth values being off
* Fixed Skywrath Mage not triggering Land Mines
* Fixed a bug with Sleight of Fist and Manta Style
* Duel can now only target heroes (it didn't do anything on non-heroes already)
Always be updated with DotA maps. Download DotA 6.73b!