Just want to share this to you, comedy videos from Philippines' Bubble Gang. Mr. Assimo, a gay nagger played by Michael V (Bitoy), which has the same style with Vice Ganda really sold laughs to many.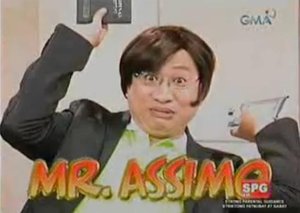 Well, this Mr. Assimo and its style was the first one to air before Vice's nagging style of jokes. Plus, I think this Mr. Assimo is much better for it's just scripted. Vice Ganda uses HER style to the public, insulting and offending the public for her nasty jokes.
Here are some of the compilations of Mr. Assimo. Feel free to watch.

Mr. Assimo Complete Episode 1-20
How was this Mr. Assimo? Funny? 🙂 You can search more in Youtube!