We have seen so much action in Kateikyoushi Hitman Reborn from the Varia season until Millefiore season. The filler for the anime is not that much compared to Naruto and Bleach. Most of the episodes in the Kateikyoushi Hitman Reborn are based on the manga itself. The manga version is very far away from the current anime.
Sawada Tsunayoshi, the 10th boss of Vongola family or commonly known as Vongola Decimo, has no defeated Byakuran from the future arc. With the help of the sky arcobaleno's powers, Tsuna has finally fired the X-Burner which finally annihilated Byakuran. In the Kateikyoushi Hitman Reborn Episode 203, which is titled "To a New Future", the problem with the future has been settled, and they were able to come back to the present. It was only a short time that passed in the present while months and months in the future.
Kateikyoushi Hitman Reborn Season 9 is pending. Many avid fans of the anime is ver much eager to see the episode 204. Those who don't read the manga wanted to know the next story. It has been months since the episode 203 of Kateikyoushi Hitman Reborn has been released. It takes too long for the next episode to air. Why is that?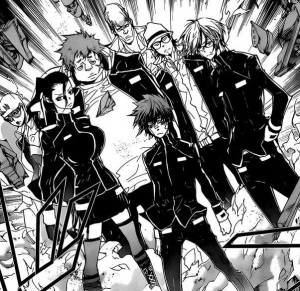 A spoiler warning here. Kateikyoushi Hitman Reborn Season 9 may be about a new family called Shimon. It was a former ally of the Vongola, but due to some circumstances unknown, they wanted revenge towards the Vongola family. They became so small and weak, to the extent that even Reborn didn't know about them. They have now return for payback for what happened to Cozart Shimon. They became so strong that even Sawada Tsunayoshi can't handle a single of them. For a small time of training, Tsuna became strong again to par with the Shimon. Here ends my spoiler to you.
Kateikyoushi Hitman Reborn Season 9 should be released or else the fans will grow tired of waiting for it. Let's hope Kateikyoushi Hitman Reborn Season 9 will be available this summer 2011.