First of all, should I say "Happy'? Well, we all know that the cost of living is getting higher, but the minimum wage doesn't go up too. With that reason, I don't think that we should be happy as well regarding that matter. If only we can cope up to life easily, then there would be no problem.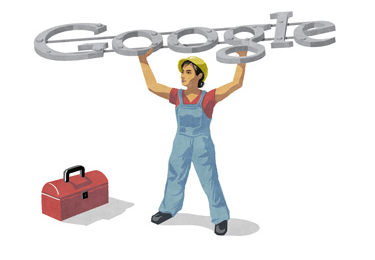 It's still happy because during this Labor Day, many job fares are appearing in malls and other venues. In the World Trade Center, the DOLE hosted a big job fare to give the unemployed the job they needed so they can earn and contribute to our society. It's really a good idea to give them a chance to be hired. Without no job fare, it's so hard to find a job because not all you contact will reply to you. I know it because I experienced it.
Google also celebrated Labor Day 2012. Today, Google changed their Google Doodle to this one. The image above is the Labor Day 2012 version of their Google Doodle.
It is also nice to know that we are celebrating a day for the laborers. I know that it's hard to work, especially in our season nowadays. So I salute more to the 'Blue Collar' workers as they shed sweat and blood just to accomplish their work. Happy Labor Day 2012!