I just viewed a great Fliptop battle for two on two (Dos Por Dos Tournament) of Loonie/Abra VS Tipsy D/Third D, and it amazed me to the point that I even watched it so many times because of those cool punchlines of both teams.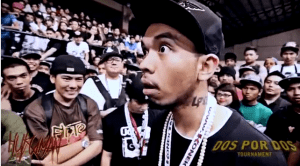 Well, we all know Loonie from Fliptop, and Abra rings a bell too. They're good, and their tandem is one of the best in Fliptop. Loonie is undefeated, and even in his battle with Dello, he conquered him so easily.
Now uprising Fliptop emcee, Tipsy D is also good. His styles are like from what we see from Apekz, some little from Harlem and Dello(they call him Newly Improved Dello). He's partnered to Third D, and I can see they done a good job in this battle, but punchlines of Abra-Loonie still dominated.
This is a must watch Fliptop battle!
FlipTop - Loonie/Abra vs Tipsy D/Third D @ Dos Por Dos Tournament